Matthew-The warrior & The first patient
Matthew-The warrior & the first patient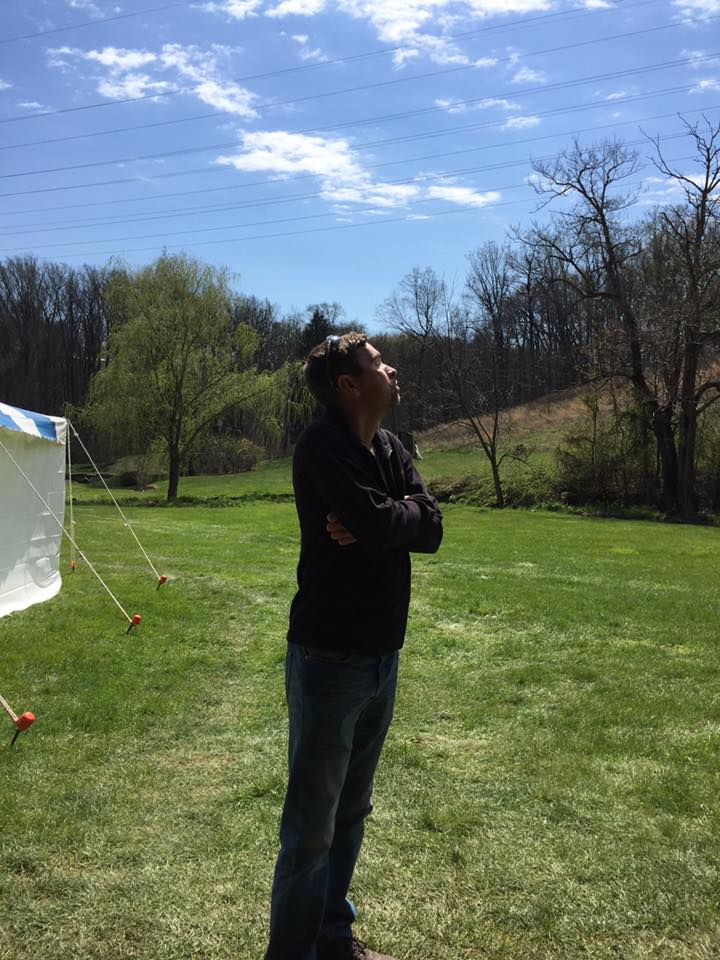 Matthew-The warrior was the first patient of GATA2 Deficiency treated at NIH (National Institutes of Health)
To meet Matthew-The warrior, gave me a hope to believe that everything can be possible. We've experienced similar journeys (lungs surgery, Pulmonary Alveolar Proteinosis (PAP), Aspergillosis, really bad infections like Mycobacterium Avium Complex (MAC),….etc.
It took us a lot of time to get a real diagnosis. We felt like human experiments. Thanks God, the situation changed and we got the opportunity to access at NIH Undiagnosed Diseases Program.
Matthew & I connect instantly. We interchanged ideas and opinions about our condition. We've built-up a friendship, based on: support, solidarity, active listening, faith, perseverance, resilience and a lot of empathy.
Thank you Matt!!!! for your interest in being part of our community.
Name: Matthew Byrne 
Age: 40 years old
Interest or Hobbies: Fishing, biking, travel, blacksmithing, beekeeper, working on home improvement projects.

1-What were the first symptoms that you experienced that sounded off the alarm that something was not right in your body? 
April 28, 1996. I was in Tennessee with my girlfriend (future wife then ex-wife) for my 20th birthday on a camping trip. The morning of my birthday, we were at a amusement park and I felt strange, almost like I had the flu. I was hot and cold, every muscle in my body ached like never before. I pushed myself for most of the afternoon finally giving into the sickness. We went back to our cabin to take a nap. A few hours later, I awoke feeling cold and soaking wet. My fever broke during my nap and now my clothes felt like someone poured a bucket of water on me. We returned home a few days later. My health continued to decline during the next week with higher fevers and sweats. My fevers were so severe. I started to not make sense to my girlfriend. She took my temp and it was 104.5. She gave me not choice, she was either going to call an ambulance to come pick me up or I could go to the emergency room on my own. She drove me to the hospital. I still continued to have a high fever. After I was admitted to the emergency room. They took blood and told me that my hemoglobin was a four and that the rest of my blood was also deficient. They admitted me right away and gave me several blood transfusions to stabilize me. I called my parents the next morning to tell them what happened. Everyone that came in and out of my room had to wear gowns and gloves because no one knew what I had or if it was contagious. I think I spent 5 days in the local hospital then I was discharged with an antibiotic treatment and a referral to see an oncologist at the University of Pennsylvania a week later. That week after, I had two bone marrow aspiration, I needed the second one because they did not take slides during the first one. Both of those procedures were horrific. At this point, I knew there was something seriously wrong with me. The doctors at the University of Pennsylvania believe that I had Myelodysplastic Syndrome (MDS) and that I needed a bone marrow transplant. But MAC and PAP (Pulmonary Alveolar Proteinosis), yet undiagnosed, kept knocking me out and postponed my transplant for years to come.
2. Matthew, How long did you present with the symptoms without a diagnosis?I was misdiagnosed with having bone marrow cancer originally in 1998. It wasn't until around 2007 that the doctors started calling the condition Mono-Mac. MONO meaning: Low monocytes level and MAC Micro bacterial, fungus and viruses infections. It was not until years after my transplant that the defective gene gata2 was found. It was just a guess that my stem cell donor (my brother) did not suffer from the same disease.
3. When were you diagnosed with GATA2 Deficiency? How did you react when you found out?
When I was first referred to the NIH from Johns Hopkins University in October 2001. I was referred to Dr. Steven Holland head of clinical research for NIAID. He said he didn't know what I was suffering from, but he saw other patients who exhibited the same symptoms and was interested in why we get sick from common bacteria, fungus and viruses. The gene gata2 was not yet discovered before my stem cell transplant in 2009. I was happy that science had progressed to help others get a quicker diagnosis in the future.
4-Prior to being diagnosed with GATA2 Deficiency, had you been diagnosed with another disease/diseases?
MAC, Aspergillus, torn calf muscle, PAP, Pulmonary hypertension, Chronic neuropathy
.
5. What has been the greatest challenge that you have faced due to this disease?
That's a hard one. So many different challenges over the past 20 years. The greatest challenge is waking up everyday and being your best cheerleader. You have to convince yourself that you have it in you to push yourself further than the day before. It's a mental game more than physical. Positive thoughts heal.
6. How were you able to overcome it?
I was always an optimistic person. I truly believed that I would survive. I always kept busy. Reading, small crafts, fishing (when I had the energy) visiting with friends all kept me engaged and focused. Family more than anything else was the key to my repeated close calls with death.
7. Matthew, Someone else in your family was also diagnosed with the disease?
I'm the only one in my family with Gata2.
8. At any time have you felt like the disease has limited or prevented you from doing something, that even if you wanted to do it, could not do, at that time?
This disease has a very slow progression. It takes several years for it to take hold. I started to find myself not being able to walk that far before having to catch my breath. Then oxygen just at night. Followed by oxygen 24/7 and a wheelchair. At that point my world was becoming increasingly smaller and harder to maneuver.
9. How did you feel when the doctors told you that you would have to undergo the rigorous process of bone marrow transplant?
It was my last option. I battled so many lung, bacterial and fungal infections over the years; my body was tired and run down. I was offered a chance to get "better" and I took it. If I did not get it I definitely would have died. If I did get it I had a chance of dying. I waited almost 2 years for a research protocol to be written so I could participate. I had no one else (Patient) to ask how it went.
10. Who was the "Angel of Light" who donated the bone marrow to you? What was your reaction when you received the news?
Both my brother and sister were a perfect match. I was blessed to have two donors in my family, some have none. I was thrilled that my younger brother was a match and he was happy to donate. I was truly blessed to have a matching sibling.
11. Matthew, How do you feel now, after the bone marrow transplant process? 
I have a full functioning immune system today, thanks to my stem cell transplant. The strange infections are gone, but now I have other complications. GVHD is something I continue to battle. Do you think that all the efforts made were worth it? Yes, with out a doubt totally worth it!!!
12. We all have "Angels of Light" that are there to support us through each of God's love 
tests. Who do you consider your "Angels of Light" to be throughout your journey?
Family was the constant since the first day I got sick. Their love never wavered and gave me strength everyday. Nurses, doctors and therapists have all given me guidance over this journey.
13. We know that you are very courageous Matthew, because of everything that you have had to go through and We would like to know how Matt visualizes himself in the future?
I visualize myself as a father, future husband and home owner. I am happy with the chance for an opportunity to become a productive member of my family. I have always believed that better days were ahead. It was never easy, but as I look back it was totally worth it. Every night when I go to bed I look over at my fiancé and son and thank God for giving me the opportunity to enjoy a little normality in a chaotic 20 years of battling my sickness.
14. What message or phrase would you like to share with the other warriors who face 
GATA2 Deficiency?
This disease will kill you if untreated. I am living proof early detection and intervention is the course of treatment. Don't think that you can manage the disease with meds alone. I have met others who were not as lucky as me with this disease. Today stem cell transplant is our best weapon. Future research on how to mitigate GVHD side effects is the key to success and quality of life.
15. If it not a secret. Can you share with us about your new professional project?
I was asked to take part of a welcoming committee as a patient representative to visiting members of the new presidential administration. Not sure who we are going to meet with exactly, but when I was asked to participate I did not hesitate. To be able to explain how the NIH has helped me personally and to stress the importance of future funding will be at the top of my talking points.
Matthew-The Warrior & The first patient